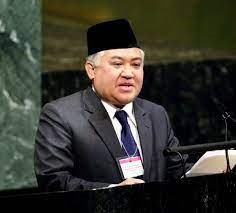 On June 27, 2023, as part of a lecture series on world religions at the Gakurin Seminary, a dialogue was held with Prof. Dr. Din Shamsuddin, Chairman of the Advisory Council of the Indonesian Ulema Council. Prof. Shamsuddin is a prominent figure in the Islamic world, having served as the Chairman of Muhammadiyah, the world's second-largest Muslim organization, as well as holding positions such as Moderator of the Asian Conference of Religions for Peace (ACRP) and Co-President of the World Conference of Religions for Peace (WCRP). He is a renowned Islamic leader who has been engaged in conflict resolution, peacebuilding, and other endeavors based on modern interpretations of Islam.
The dialogue, coordinated by President Sugino of Gakurin Seminary, focused on Islamic faith practices, ideology, and responses to contemporary challenges. Prof. Dr. Din Shamsuddin emphasized that the concept of the Islamic "Ummah," analogous to the Buddhist "Sangha," extends beyond solidarity among fellow Muslims and encompasses the entire humanity, as exemplified by the "Document on Human Fraternity," an international initiative in interreligious dialogue which underlines the broader concept of global humanity. It was noted that this expansion of the Ummah concept, akin to the development of the Sangha in Mahayana Buddhism, serves as a foundation for international interreligious dialogue and cooperation.
Furthermore, reference was made to the "Yogyakarta Statement on Shared Values and Commitments," adopted in 2015 by Muslim and Buddhist leaders in Yogyakarta, Indonesia. This underscores the ongoing dialogue and shared understanding of common values between Buddhism and Islam, highlighting the importance of collaborative efforts to address issues that threaten global peace.