Gakurin's Global Partners
As the Global Training Center for Engaged Buddhism and Interfaith Action, the Gakurin Seminary works with organizations and networks around the world to provide lectures and training in order to develop the skills necessary to respond to contemporary global challenges through the application of Buddhism and the Lotus Sutra, and to work in partnership with religious leaders and partners across the globe to build peace.
Engaged Buddhism: International Network of Engaged Buddhists (INEB)
The International Network of Engaged Buddhists (INEB), headquartered in Thailand, is a coalition of leaders and practitioners of Theravada, Mahayana, and Tibetan Buddhism from around the world, working on contemporary issues such as conflict, environment, poverty, education, child protection and welfare, and gender equity. The Executive Director Somboon Chungprampree, in dialogue with Gakurin seminarians. On 11-12 April 2023, Buddhist youth leaders from 15 countries participated in the International Engaged Buddhist Youth Leaders Forum, co-sponsored by the I N E B and the Gakurin.
International Engaged Buddhist Leaders' Forum
INEB's website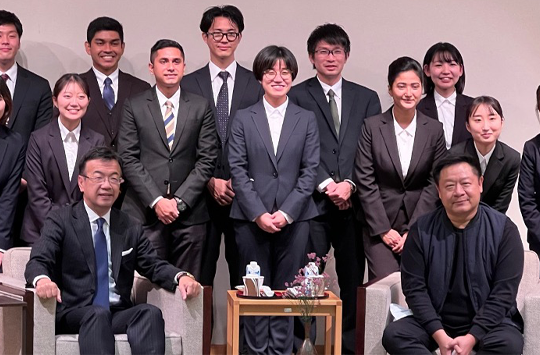 World Conference of Religions for Peace (WCRP/Religions for Peace)
Gakurin works with leaders at the forefront of interfaith dialogue and cooperation who lead Religions for Peace (W C R P ), the world's largest interfaith cooperation organization, with headquarters in New York and affiliated Interreligious Councils (IRCs) in 100 countries around the world.
Religions for Peace's website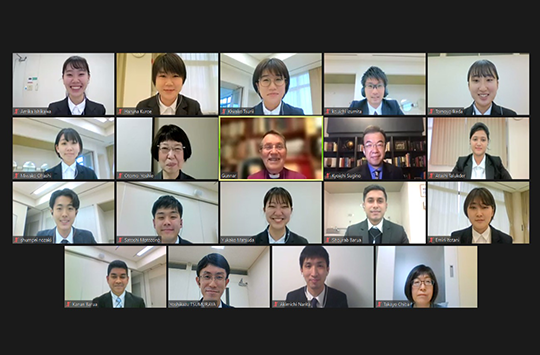 The dialogue with Bishop Gunnar Stålsett, former Vice-Chairman of the Nobel Peace Prize Committee and Honorary President of Religions for Peace International, included a lecture and dialogue on peace and justice, forgiveness and reconciliation in Christianity, as well as on the "Western and Eastern Concepts of Tolerance," a specialized study of our seminarians.
Bishop Munib Younan, Religions for Peace International Honorary President, who is promoting dialogue and cooperation among various religions in the holy sites of Christianity, Islam, and Judaism in Jerusalem, visited Gakurin and had a dialogue with Gakurin seminarians. Bishop Younan has been patiently keeping the flame of dialogue burning amidst the ongoing Israeli-Palestinian conflict, and promoting peace education for young people. The Gakurin seminarians actively engaged in dialogue about what the spirit of "tolerance" means and how to prepare for the practice of "dialogue among the various religions."