Through two years of practical training at the Gakurin, outstanding international youth from the global Sangha are trained to master the essence of Buddhism and the Lotus Sutra through practical training and become engaged Buddhist leaders who spread the Dharma and advance interreligious action in Japan and internationally.
Please contact the Gakurin Daiju Group to apply for the International Program.
Curriculum
Basic Buddhism
Lotus Sutra Studies
Teachings of Rissho Kosei-kai and its Founder, Rev. Nikkyo Niwano
Rissho Kosei-kai's Basic Practices
Intra- and Inter-Faith Cooperation for Peace
Practical Training at Local Dharma Centers
Specialized Research
Engaged Buddhism
Buddhism
The Lotus Sutra
Rissho Kosei-kai Founder Rev. Nikkyo Niwano's Interpretation of Buddhism and the Lotus Sutra
Interfaith Action
The World's Religions
Christianity
Islam
Hinduism
Judaism
Sikhism
Zoroastrianism
Jainism
Voice
Student's Specialized research themes
A Comparative Analysis of the Status of Women in the Buddhist Sangha of Bangladesh
Ms. Atasi Talukder
Strengthening Interreligious Dialogue and Education in Bangladesh
Mr. Shourab Barua
Dormitory Life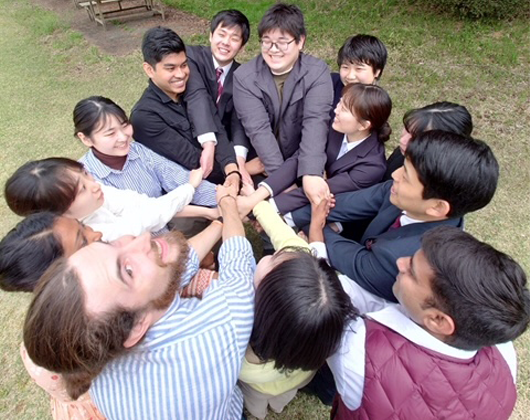 Daiju Dormitory
Gakurin International Program students live in the Daiju Dormitory on the Ome campus.
More information