The Gakurin Honka (main) Program trains "future religious leaders" who have the ability to discover their true self and help shape the future of societies, the nation, and the world through a holistic and integral education based on Buddhism and the Lotus Sutra. Honka graduates have gone on to become engaged Buddhist leaders in Japan and abroad, international leaders engaged in interreligious cooperation and peacebuilding, Buddhist scholars, as well as practitioners and leaders in diverse fields.
Information on research activities
Curriculum
Basic Buddhism
Lotus Sutra Studies
Teachings of Rissho Kosei-kai and its Founder, Rev. Nikkyo Niwano
Rissho Kosei-kai's Basic Practices
Intra- and Inter-Faith Cooperation for Peace
Practical Training at Local Dharma Centers
Specialized Research
Engaged Buddhism
Buddhism
The Lotus Sutra
Rissho Kosei-kai Founder Rev. Nikkyo Niwano's Interpretation of Buddhism and the Lotus Sutra
Interfaith Action
The World's Religions
Christianity
Islam
Hinduism
Judaism
Sikhism
Zoroastrianism
Jainism
Voice
58th Class Satoshi Motozono
Student's Specialized research themes
The Evolution of the Theory and Practice of Dialogue in the Catholic Tradition since the Second Vatican Council, and its Impact on Global Interreligious Dialogue
Ms. Kiwako Tsurii
Toward Inter-generational Dialogue and Exchange that Shine for Everyone: The Development of Culture of Multi-generational Cooperation in the Rissho Kosei-kai Community
Mr. Shunpei Nozaki
New Buddhist Economics
Mr. Koichi Izumita
A Comparative Study of Western and Eastern Approaches to Tolerance: Responses to an Intolerant Society
Mr. Satoshi Motozono
The Peaceful Coexistence of Muslims and Buddhists in Asia: Sharing Historical Values and Working Together
Mr. Barua Kanan
The Influence of Parental Unconscious Action and Behavior on Children: A Study of Negative Love Syndrome
Ms. Miwako Ohashi
Toward the Development of a Model of Integral & Wholistic Education: Living Buddhist Virtues Ethics and Practice
Ms. Yukako Matsuda
Toward a society where everyone can play an active role, transcending gender differences: What are the obstacles to women's participation unique to the Buddhist world?
Ms. Haruna Kuroe
Dormitory Life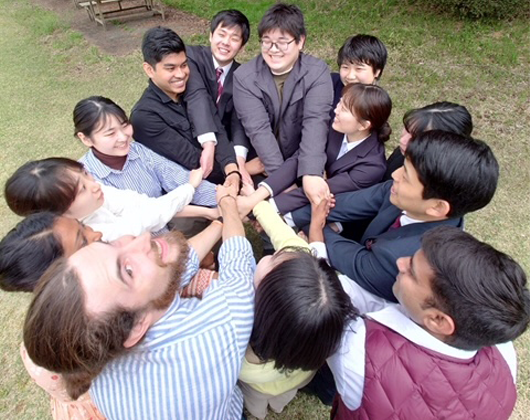 Daiju Dormitory
Gakurin Honka Program students live in the Daiju Dormitory on the Ome campus.
More information