Stay connected with the Gakurin family
At Gakurin, we value horizontal and vertical ties even after graduation. The Gakurin offers a variety of programs to keep these connections alive.
Gakurin Honka Alumni
Gakurin Honka graduates are leaders of engaged Buddhism in Japan and abroad, working with people and making a difference in society. The bonds of fellowship are lifelong treasures. In today's complex and challenging world, they are irreplaceable comrades who live and share the Gakurin vows in their respective places, even though they are far away from each other.
Some of Gakurin Honka 34th Class Seminarians reunited (May 2023).
Gakurin Koju University Program Alumni Network
Gakurin Koju University Program has produced more than 470 leaders who are active in society and who are grounded in their faith, in the spirit of "Koju (spreading light to the world). The Koju University Program held a hybrid real and online round-table discussion session where Gakurin Koju Alumni, Koju University Program students, and others who are active in various fields of society and the world, gather to discuss how their studies at Gakurin, based on Buddhism and the Lotus Sutra, are being put into practice after graduation.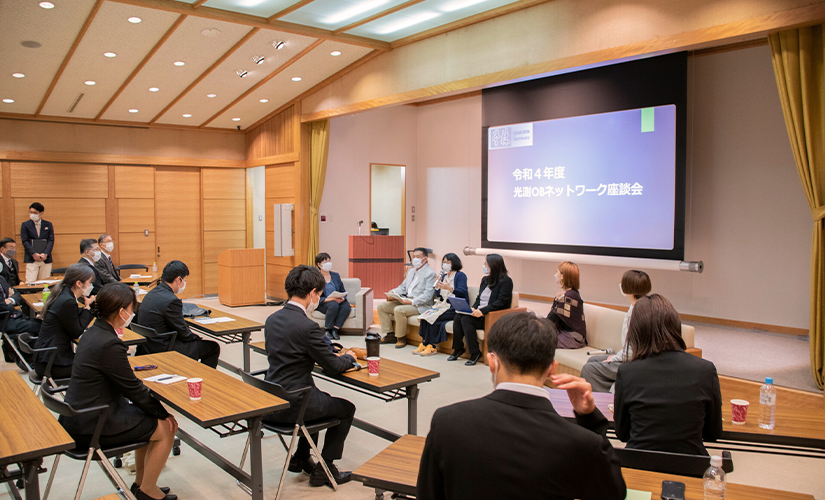 Gakurin International Program Alumni Meeting for South and Southeast Asia
On September 3, 2022, "Gakurin International Program Alumni Meeting" was held online. The Gakurin International Program was established in 1994, producing lay Buddhist practitioners and leaders throughout the world. The purpose of this meeting was to strengthen the bonds of the sangha (fellowship and community of Buddhist practitioners), to deepen understanding of the Buddha's teachings, and to further integral and wholistic education and development for the graduates who are engaged in bodhisattva practice through local Dharma centers across the region. About 50 alumni, from Thailand, Sri Lanka, Bangladesh, India, and Cambodia, as well as the 29th and 30th seminarians from the Ome Campus, participated.