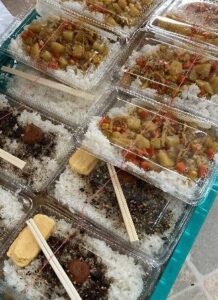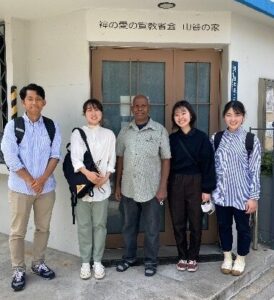 On May 20 and 27, 2023, as part of Youth Action Day for Peace, the 59th and 60th Classes of the Honka Program and the 30th Class of the International Program collaborated with the Missionaries of Charity (MC) in providing soup kitchen for the impoverished and vulnerable people in the Sanya area of Tokyo.
Together with the Catholic brothers and volunteers, Gakurin seminarians cooked about 300 meals of curry at the monastery and distributed them at a nearby park. Returning to the monastery, Gakurin seminarians and Christian congregants prayed together for peace.
Missionaries of Charity was founded by Mother Teresa, Saint Teresa of Calcutta who dedicated her life to serving the poorest of the poor. A monastery was established in Japan in 1978, and since then, Catholic brothers have devoted themselves to providing care and support for the impoverished and vulnerable people, both materially and spiritually, in this town where rural farmers gather as migrant laborers and where the needy overflow.
Rissho Kosei-kai and Mother Teresa's Congregation have a long history of friendship and collaboration, with youth delegations visiting the monastery in Kolkata, India. Furthermore, both Mother Teresa and Rissho Kosei-kai Founder Nikkyo Niwano received the Templeton Prize, known as "Nobel Prize of Religion. Although their religions, Christianity and Buddhism, are different, they lived the spirit of their respective faiths and loved those who were abandoned by society. They dialogued and collaborated in the Asian Conference of Religions for Peace (ACRP), the Asia's largest multi-religious coalition for peace, bringing together people of faith to join hands and act together for the sake of social justice and peace in their countries, in Asia and across the world.
The Gakurin seminarians who participated in this collaborative project recalled the encounter between Mother Teresa and Founder Nikkyo Niwano and their spirit of cooperation through their volunteer work in the soup kitchen. The messages of love and compassion were prepared in advance by Gakurin seminarians and attached to the curry and given to each person in line to receive their curry.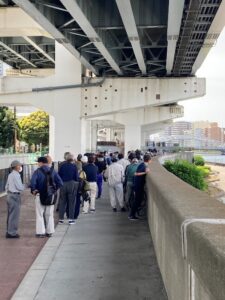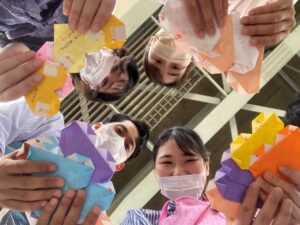 Abbot Jojo, a native of India, said "Our Order and Rissho Kosei-kai may have different paths to the top of the mountain, but they are all connected to one purpose: to create a better society and world. God has given each of us a special gift and has a plan for each of us."
He encouraged Gakurin seminarians by sharing Mother Teresa's spirit by saying "Don't be afraid to fail. Give it a try. Take the first step."