Bishop Munib Younan from Jerusalem urged not to be afraid of the vastness of knowledge, discover your mission in life through prayer, study and practice.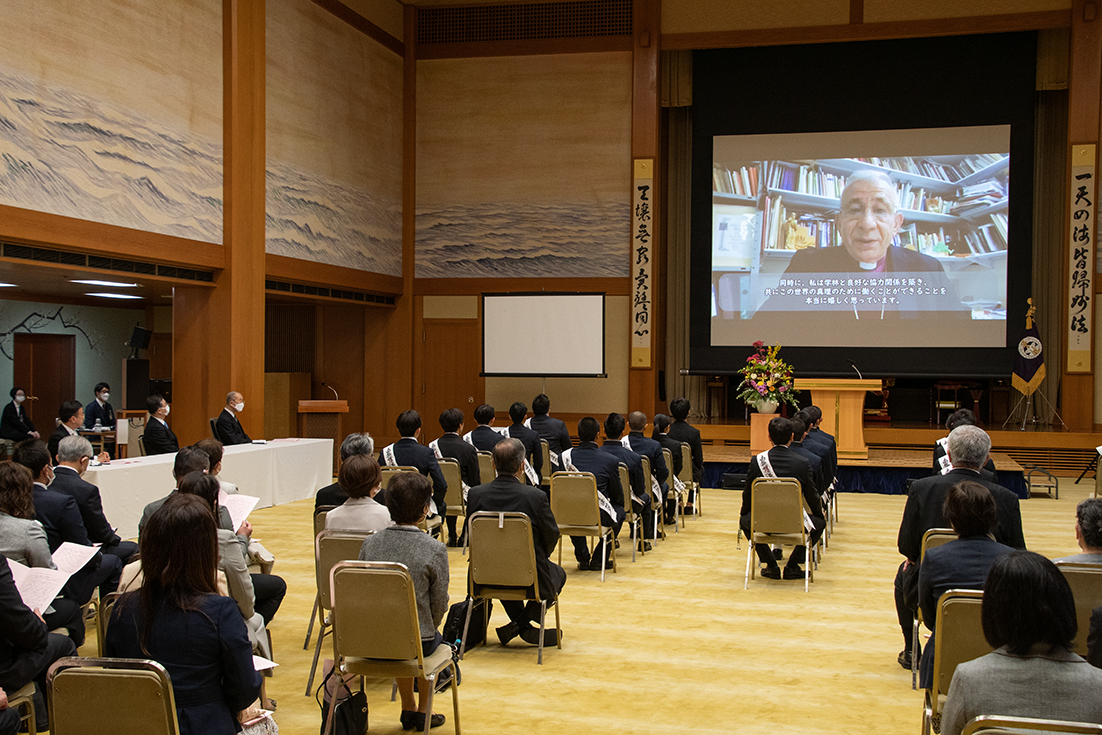 On April 2, 2023 "Induction Ceremony" of Gakurin was held at Horinkaku (Suginami-ku, Tokyo) with President Nichiko Niwano in attendance. 60th Class of Honka program, 49th Class of Koju Undergraduate Program, 16th Class of Lotus Post-graduate Scholarship Program, 18th Class of Koju High School Program, as well as students from Gakurin Hoju Women's Vocational Colledge were inducted into Gakurin.
140 people attended to celebrate the beginning of the Following an address by Gakurin President Kyoichi Sugino, Rev. Munib A. Younan, General Secretary Emeritus of the Lutheran World Federation (LWF) and Honorary President of the Evangelical Lutheran Church in Jordan and the Holy Land (ELCJHL) and WCRP/RfP International, gave a congratulatory address to the new seminarians. The 34th Niwano Peace Prize recipient, who is a close friend of Rev. Nichiko Niwano and Rev. Kyoichi Sugino through the WCRP/RfP, gave a special lecture to the students in October last year. This congratulatory address was made possible through this relationship.
In his congratulatory address, Bishop Youman mentioned the attitude toward learning. Quoting from the Old Testament Proverbs, "Fear of the Lord is the beginning of wisdom, and knowledge of the holy is insight," he emphasized the importance of learning many things, saying, "Do not be afraid to study, and do not be afraid of the vast amount of knowledge that is out there.
Touching on his role and mission as a Gakurin student, he then emphasized the importance of each person pondering "why they joined Gakurin" and "what they will learn as a result of Gakurin. In addition, he mentioned the importance of each person having a theme and shaping it into something, however small, "What contribution can I make to the world?
Third in his advice, Younan touched on the importance of learning and understanding other religions. He stated that "understanding other religions will lead us to find values common to all religions, such as justice, peace, sacrificial love, coexistence, and freedom," and that "these common values will lead to a world without war, bloodshed, or occupation. He also expressed his belief that Gakurin students have an important mission to achieve this goal.
In closing, he encouraged the students to "make time to meditate, think, and talk with God and Buddha, saying, 'Please show me the path I should follow,'" because prayer should be a part of daily life, not just a ritualistic prayer.
Following the address by Rev. Keiji Kunitomi, chairman of the Board, Rev. Nichiko  Niwano took the podium. He stated that in order to pursue such a far-reaching theme as world peace, they are called to devote themselves to study and practice with diligence and assiduity without waiting their time idly. Such concentration and devot.