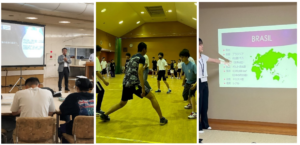 From August 5th to 7th, 2023, the "Summer Seminar for High School Students" organized by the Gakurin Koju University Program was held. Under themes; "Reflecting on oneself and seizing opportunities for new beginnings," "Unearthing the raw gem within oneself," and "Returning to one's original intentions," a total of 35 high school students from across the country interacted with students from the Koju University Program. The seminar included training on the fundamental Buddhist concept of "dependent origination (pratītyasamutpāda)" led by students from the Koju University Program, specialized lecture experiences conducted by university students in a format resembling actual university classes, mini sports events, and group activities aimed at self-reflection.
On the final day, President Sugino delivered a special lecture. He invited the high school students on a journey of self-discovery, emphasizing that their true selves possess infinite potential connected to the universe and the world. He encouraged them to find their bestowed mission, contribute to society, and become someone capable of shaping the future of the world.
During a session titled "New Beginning Program," the high school students announced their specific future goals, including pursuing higher education at university, reaffirming their commitment to actively learning as high school students.